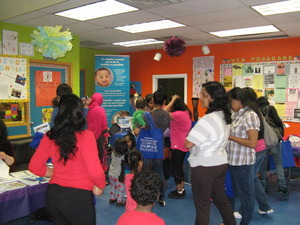 On May 13, 2014 the Scarborough East Ontario Early Years Centre hosted a mini Health/Information Fair. It was well attended and was a tremendous success with 52 Adults and 60 children attending the fair.
There were a variety of professional services represented;Toronto Public Health, The East Scarborough Storefront, Scarborough Centre for Healthy Communities, Community Living Toronto, Celiac Association, Epilepsy Toronto, Asthma Society, Toronto Council Fire Native Cultural Centre, Geneva Centre for Autism and many more. Thanks to all the organizations for their participation.
Feedback received from the families attending the fair was:
"There was a lot of great and useful information", "They were happy to be connected to these services", "very needful for their child", "Health Fair was very helpful ".
Everyone mentioned that they look forward to visiting the fair again in the future.